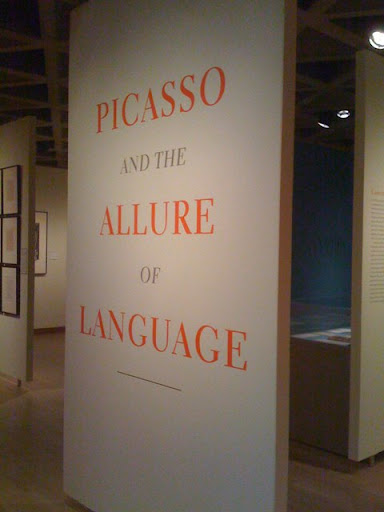 I took a little train ride up to New Haven, CT to visit a dear friend, who is attending the MFA in theatre program at Yale (I know, I'm so proud of her!). So I got to see a really interesting performance of Hamlet last night, which was itself a work of art with colorful costumes and an artistic perspective on the Shakespearean classic. And this morning, my friend and I ventured to the
Yale Art Gallery
to see the Picasso and the Allure of Language exhibition.
In the past year of my growing interest in art museums, I have come across a handful of exhibitions featuring books, works on paper, and literary contributions by well-known artists. This was another gem to capture my love of the written word and visual art all rolled into one.
Picasso's illustrations, book covers, and poetry provide a new facet to the prolific artist's illustrious career. To see physical proof of the constant workings of his mind and his collaborations with other artists was wonderful.
I especially enjoyed his handwritten poetry — the words on the page are beautifully arranged works of art in themselves. There were also illustrations for several texts; my favorites were line drawings of Greek mythological subjects.
Though small, this was a well-designed world-class exhibition — as could be expected from the Ivy League.